Hi Bubba here, I have created others for other forums, so I thought I would start one for this forum.






Birthday List for Forum Members
January

MMAGRUDER - January 2, 1976
rcg - January 5th
barneysbullet - January 24th
NatashaFatale - January 28th
SUNNY_FL - January 28th
February
Gabrielle Anwar - February 4th
BurnNoticeRN - February 5th
DrKriss - February 7th
DebraL - February 10th
Cindy Sue - February 14th
GetBurned - February 23rd
ShortandSweet - February 27th
pwells228 - February 28th
March

Kimbee - March 10th
HaleyLovesBN - March 11th
philliesfan - March 11th
LI_Ann - March 13th
FiFi - March 17th
TinChicago - March 21st
Spychick - March 21st
Curator - March 29th
April


mjstinger103 - April 11th
Tilly11 - April 29th
May
DuctTape -May 1st
pariah23 - May 4th
Cheffie66 - May 9th
roughseasforme - May 10th
Jeffrey Donovan - May 11th
BNfan4life - May 13th
evelina69 - May 15th
justloveyogurt - May 16th
icrmom - May 21st
Groovy82 - May 23rd
Karendipitee - May 27th
WestonUnburned - May 28, 1991
PineappleYogurt - May 28th
moe38 - May 28th
Kusa23 - May 30th
Sharon Gless - May 31st
June


sarcasmlove - June 1st
Burnaholic - June 7th
CAGilder - June 13th
mjwannabe - June 17th
Bruce Campbell - June 22nd
Maria417 - June 22nd
famkemargfan- June 26th
July


InvisibleRain - July 1
dolphingirl79 - July 5th, 1979
TexasScaper - July 7th
Silk7 - July 7th
csi24 -July 8th, 1991
bcmom - July 12th
psych4ever - July 16th
SandraR - July 17th
LGia19 - July 19th
mrohr - July 19th
ChiBurnFan - July 19th
kbktrouble1 - July 21st
RubyAlison- July 27th
RufusM - July 29th
August
Trigger_Happy - August 5th
lovethatmonk - August 9th
mango1 - August 12th
SusieQ - August 15th
Lucazzy - August 15th
Seth Peterson - August 16th
ColleenM - August 22nd
BN2255 - August 22nd
cargram - August 25th
fli - August 27th
LuLuNY - August 29th
auroracat - August 30th, l965
September

Matt Nix - September 4th
Sydney_ - September 12th
ILYOLIVIA - September 23
October

elanasings - October 9th
donnasnook - October 14th
fist - October 18th, 1994
FiRocks - October 18th
November

TwoWolves - November 1st
amandahawthorn - November 10th
addicted2BN - November 16th
christyg1119 - November 19th
rk212005 - November 20th, 1986
Brett8 - November 22nd
MsSully - November 23rd
DramaQueenBroadway - November 25th
JennaV - November 26th
December


Makarov4Fi - December 1st
ArchanaArt - December 3rd
JayceeCrystl - December 4th
BrunoOliveira - December 8th
BN8802 - December 10th
radb - December 11th
arkangelblue - December 15th
charmedp3f - December 16th
Krocla - December 24th
mallorys - December 28th
Sister776- December 29th
Burn Notice Birthday Thread Members:

Our birthday list is going through some revision and updating. If you have not logged on to the Burn Notice forum since season 4, you may find that your name has been deleted from the list to keep up with the increasing volume of active members.

If you still visit the forum as "read only" (without logging in), please either sign up again or pm me if you find your name is no longer on the list. We don't wish to leave anyone out, but have found that many former members have not visited the site for a year or more. Thank you...and please let me or one of the other moderators know if you wish to be added again!

~JennaV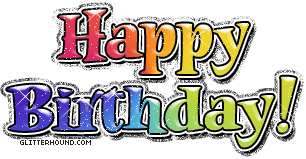 If you like, pass along your birthday (Doesn't have to include year, just month and day) and I will add it.
Edited by NatashaFatale, 20 September 2012 - 10:02 PM.